Dear Friend,
I am pleased to present my electronic newsletter. These e-newsletters enable me to provide information about issues, events and activities in Harrisburg and around the 21st Senatorial District to you in a timely manner while saving postage costs.
If you find this e-newsletter useful, I invite you to visit my website www.senatorlaughlin.com for more information about your state government. If you do not wish to receive these e-newsletters, please click the "unsubscribe" button at the bottom of the page.
Sincerely,
Dan
---
Senate Begins 2017-18 Legislative Session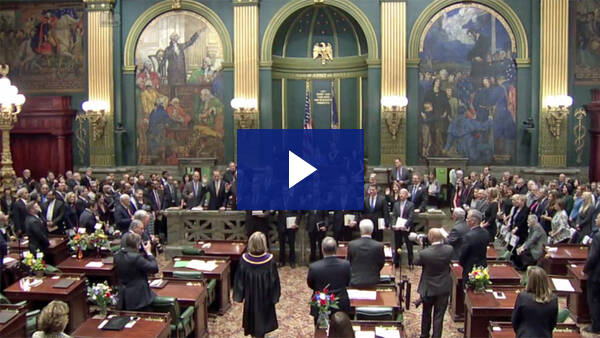 Just after noon on Tuesday, January 3, I solemnly swore my oath of office and became the official advocate for the 244,000 Erie County residents living in the 49th Senatorial District.
The experience was truly humbling and awe inspiring. Standing in the Senate Chamber, you can feel the history and the responsibility that comes with the office. I look forward to serving my constituents for the next four years.
Now, with the formalities over, I am ready for my legislative duties to begin as the Senate starts the business part of the 2017-18 Legislative Session later this month.
The top priority for my district is the funding for the Erie School District. That's been a big issue for years now. Their financial distress is a big issue in Erie and it is spilling out to the surrounding districts also. So, that is probably my number one goal, to help fix that issue. My second goal is to bring jobs back to Erie.
---
Governor Wolf – Please Restore KOZ/CRIZ Authorizations
One day after being sworn into office, I sent a letter to Governor Tom Wolf asking him to reverse his moratorium on the expansion of two economic development programs that could spur development and job growth in Erie and communities across Pennsylvania. Audio
Last month, the Governor announced that he would not authorize additional Keystone Opportunity Zones or City Revitalization and Improvement Zones. Both programs have proven to be critical to the growth and development of properties and communities that would not otherwise be improved, such as many of those which I now represent in Erie County. More information
---
My Biggest Supporters Help Me Enjoy Swearing In Day
I was proud to have my wife Peggy and our three children, Spencer, Nathaniel and Sinclaire, in the Senate Chamber for the January 3 swearing in ceremony. A number of friends and family members joined me in Harrisburg for the swearing-in day festivities. They helped me get to where I am and I am glad they could make the trip. It's only right that they shared in the happiness that is part of the swearing in ceremony.
---
PENNDOT Stops Issuing Registration Stickers
The beginning of 2017 marked the end of PENNDOT's license plate registration stickers. Act 89 of 2013 provided for the elimination of vehicle registration stickers, a move that will realize a cost savings to taxpayers of $1.1 million per year. An additional $2 million will be saved in mailing costs.
Motorists are still required to maintain current vehicle registration, and must present a registration card to law enforcement when asked. A valid registration card is also still required when having a safety and/or emissions inspection completed.
Law enforcement agencies have electronic access to PENNDOT's database from their patrol vehicles, which allows them to verify if a vehicle registration is valid. In addition, many use license plate reader technology to efficiently validate registrations.
---
Appointed to Serve on Six Senate Committees
I am pleased to report that I was appointed to serve on six important Senate Committees for the 2017-18 Legislative Session. Senate President Pro Tempore Joe Scarnati appointed me to serve as Vice Chairman of the Senate Aging & Youth Committee and as a member of five other committees including: Banking & Insurance, Education, Game & Fisheries, Labor & Industry, and Urban Affairs & Housing.
These are excellent committee assignments for a freshman state senator, especially since they will consider legislation that has a direct bearing on several aspects of the quality life in our local community. I will have the opportunity to work on a wide variety of issues that impact the Erie School District and the City of Erie. This will be a learning process and I look forward to working with my colleagues to help make Erie County and the Commonwealth better places to live and do business.
---
Visit My Website, Facebook Pages to Keep Up to Date on State Government
As part of my commitment to make access to state services as convenient as possible for my constituents, I recently launched a new website and Facebook page to help connect local residents with state government news, services and agencies.
The new website for the 49th Senatorial District, www.senatorlaughlin.com, serves as an online district office and a point of first contact for constituents who have questions regarding state government. The site provides the latest news from the General Assembly and links to state, federal and local government departments and agencies, as well as information of interest to Erie County residents. A contact form is also available if you have questions or concerns pertaining to government services and agencies.
You are also cordially invited to visit https://www.facebook.com/senatorlaughlin/ to find out about legislation and important issues both in Harrisburg and in communities in the 49th Senatorial District and to sign up to receive updates. This can be done by clicking on "like" at the top of the page. The site also allows me to receive input from you on issues from constituents. Facebook is not just a great way to communicate with friends and family members. It is also a way for elected officials to stay informed and connect with the needs of the community.
---
Dog Licenses Now Available at County Treasurers' Offices
Pennsylvanians can now purchase 2017 dog licenses from their county treasurers. State law requires all dogs three months and older to be licensed by January 1 of each year.
An annual dog license is $8.50, or $6.50 if the animal is spayed or neutered. Lifetime licenses are available for dogs that have permanent identification like a microchip or tattoo. Older adults and people with disabilities may be eligible for discounts.
The dog license application is simple and only requests owner contact information and details about the dog being licensed, like name, age, breed and color.
For more information, including a list of county treasurers, visit www.licenseyourdogPA.com or call the Bureau of Dog Law Enforcement Office at (717) 787-3062.
---
PHMC Accepting Keystone Historic Preservation Grant Applications
The Pennsylvania Historical and Museum Commission (PHMC) is now accepting applications for Keystone Historic Preservation Grants.
A total of $1.5 million will be available for grants for projects that identify, preserve, promote and protect historic and archaeological resources in Pennsylvania. Two types of grants – project and construction – are available for historic resources in Pennsylvania listed, or eligible for listing, in the National Register of Historic Places. Applicants may apply for only one type of grant.
For grant program guidelines and eGrant application instructions, visit PHMC online at www.phmc.pa.gov and click on "Grants and Funding" under the PRESERVATION tab on the top navigation bar. The application deadline is March 1. For more information, contact Karen Arnold by email at kaarnold@pa.gov or telephone at (717) 783-9927.
---
For more information on issues of importance to southwestern Pennsylvania, please visit my website at www.senatorlaughlin.com and connect with me on Facebook (www.facebook.com/senatorlaughlin/) and Twitter (twitter.com/senatorlaughlin).